Leadership Breakfast Series 01/31/12 Ralph de la Vega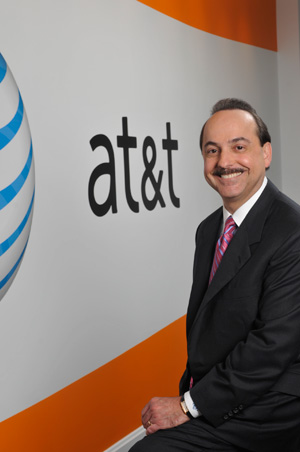 Ralph de la Vega, President and CEO-AT&T Mobility and Consumer Markets, was named to his current role in October 2008. Today, he leads all consumer marketing, sales, content, converged services and customer care for the company's wireless and wired businesses.
Previously, he served as President and CEO-AT&T Mobility where he was responsible for AT&T's wireless business since October 2007.
Prior to that, he served as group president-Regional Telecommunications and Entertainment, with responsibility for overall leadership in AT&T's regional wired business, including consumer and regional business sales and network. He was appointed to that post in January 2007, after the close of the AT&T-BellSouth merger, which consolidated ownership of Cingular.
From 2004-2006, de la Vega served as chief operating officer of Cingular Wireless, with responsibility for technology planning, network operations, marketing, sales and customer care.
Before joining Cingular in January 2004, he served as president-BellSouth Latin America, with overall responsibility for BellSouth's operations in 11 countries: Argentina, Uruguay, Colombia, Venezuela, Chile, Peru, Ecuador, Panama, Nicaragua, Brazil and Guatemala.
He also has served as BellSouth's president of Broadband and Internet Services. In this position, he had overall responsibility for the deployment, marketing and operations of broadband services. In addition, he had responsibility for BellSouth Internet Services and BellSouth's rapidly growing data support groups.
Mr. de la Vega started his career in 1974 with BellSouth (then Southern Bell) as a management assistant. He has held numerous positions of increasing responsibility in Network Planning, Consumer Services, Engineering and Operations — including a rotational assignment at Telcordia (Bellcore) — and was responsible for all BellSouth Telecommunications Network Operations in Florida, Alabama, Mississippi and Louisiana.
Mr. de la Vega also is extensively involved in nonprofit and community organizations. He is the chairman of Junior Achievement Worldwide and the chairman of Hispanic initiatives for the Boy Scouts of America, and serves on the boards of the Georgia Research Alliance and the Georgia Aquarium. He was inducted into the Hispanic Scholarship Fund's prestigious Alumni Hall of Fame which honors select Hispanics for their personal achievements, contributions and service to America.
Mr. de la Vega is a member of the board of New York Life Insurance Company.
A native of Cuba, he holds a bachelor's degree in mechanical engineering from Florida Atlantic University and a master's degree in business administration from Northern Illinois University, and he has completed the Executive Program at the University of Virginia. He is also the author of the book, Obstacles Welcome: Turn Adversity into Advantage in Business and Life (Thomas Nelson, 2009).
EVENT SPONSOR:

For additional information, contact Tim Dodson at tim.dodson@sutherland.com of 404.853.8109.

Date: Tuesday, January 31, 2012
Time: 7:00 A.M. Hot Breakfast Buffet***
8:00 – 9:00 A.M. Remarks by Mr. de la Vega Q&A
Place: The New Buckhead Club, 26th Floor, Sovereign Building, 3344 Peachtree Road, Atlanta
Cost: Refer to registration form and pricing. Price includes continental breakfast and self-parking
Dress: Normal office attire
Please reserve no later than Wenesday, January 25, 2012
Click here to buy tickets!!!