TAMARA CARRERA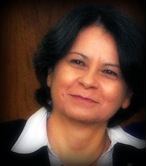 Tamara Carrera is the CEO/Executive Director of CAC, Community Assistance Center, the primary emergency assistance agency serving the cities of Sandy Springs and Dunwoody, Georgia. She began her involvement with CAC in 1992 as a volunteer, and became its Executive Director in 1997. Under her direction CAC has grown to become a significant asset in the communities of Sandy Springs and Dunwoody attracting and marshalling resources that contribute to positive change, stability and growth.

Tamara is a native of Ecuador. She came to the United States to attend college and received a BA from Manhattanville College and an MBA with a concentration in Non-profit Management from Boston University. For more than thirty years Tamara has been actively involved in managing non-profit organizations in every community she has lived, Boston, Long Island and Atlanta. Her experience extends to community health programs and social service agencies. She has served as an evaluator of non-profit agencies and programs for funding agencies like United Way; and she has contributed her leadership and vision to local boards of directors including the Horizons Enrichment Program, Holy Innocents Episcopal School, Sandy Springs Education Force, Leadership Sandy Springs and Second Helpings.

She is an inspiring visionary and strategic thinker who leads by example to establish organizational excellence and implement meaningful programs that deliver consistent and measurable outcomes. She is also an experienced bridge builder; developing strategic alliances to obtain resources and develop effective programs and efficient operations. She has extensive knowledge of nonprofit management principles, practices and trends. She is dedicated to fostering a culture of learning, service, quality, and uncompromising ethics. Her expertise encompasses strategic planning, development, regulatory compliance, nonprofit finance, contracts management, staff development, operations management, board development and collaborations.